Canada Firewood
Alberta Depot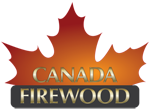 Toll free 1- 877-894 -9378
Direct (403) 638-8090
email: sales@woodfire.ca
Premium ready to burn Bulk firewood, delivered to your home
*******************************
Scroll further down on this page for firewood selection and prices
2013 Firewood Types and Prices
*******************************************

Fall Specials 2013
We have the best selection of wood species and best quality in Alberta.
A family owned & operated business for 20 years


We can usually deliver with 24 to 48 hours right now.

Note: Rona Crowfoot & Macleod Trail stores as well as Cochrane Canadian Tire
will carry our birch firewood.

These stores have extended hours and are open 7 days a week if you require wood on short notice.

Remember we guarantee to sell you dry firewood, you have
no risk of getting stuck with wet wood.

email: sales@woodfire.ca
Updated November 28 /2013
Tight stacked measure - 25-30 % more firewood than loose cords sold everywhere else,
donít be fooled by lower prices when resellers are offering loose stacked firewood, you rarely get the cord amount you pay for.
Almost all birch for sale in Alberta right now has been cut this last winter or summer and is not properly seasoned,
it will not be good for indoor burning until December or January and prime in another year.

Our BC birch is guaranteed dry and properly seasoned.
Toll free 1- 877-894 -9378
---------------------------------------------------------------------
Premium Quality
Well Seasoned
B.C. Yellow Birch
Early Fall Special

BC Yellow Birch-Our Best Birch firewood
Guaranteed dry and seasoned
Moisture tested at an average of 18% which is considered prime.

...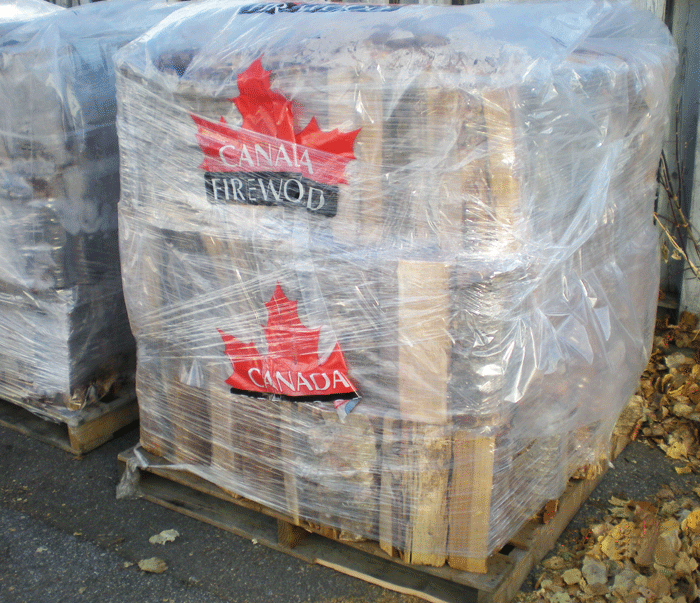 .......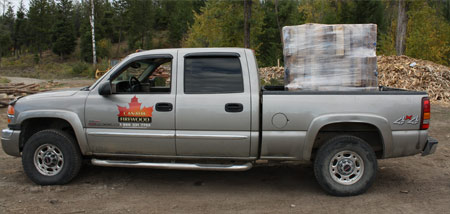 Premium Select BC Yellow Birch ........ Premium Yellow Birch Pallet in back of pickup truck
1.5 cubic Metre
Hand Picked Tight Stacked Pallets
***************************************
1.5 cubic meters (just under half a cord)
2 of these tight stacked pallets will generally be equal in volume to a "cord" of loose bulk firewood
but without the bark, dirt and bugs
Delivery in Calgary area Included in price.

Special - $330 per Pallet (1.5M3)

2 Pallets for $600.00 (Approx a cord or 3M3)

Call or email for prices on larger quantities of pallets
Delivery surcharge applicable to Canmore & Banff deliveries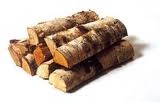 This is the best birch firewood available. All pieces in these pallets have been dried
to the best moisture level for optimum burning and heat output unlike birch cut and stored in piles outdoors.
Our birch firewood is super clean as the wood never touches the ground during processing,


**********************************
Douglas Fir & Pine Mix

minimum 85-90 % Douglas Fir content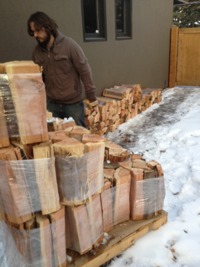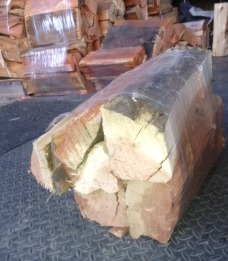 Ideal for Cozy HOT fires, long burning, aromatic and lively flames
In B.C. Fir is favored over Birch firewood by locals using wood stoves for heating.
Fir has a long burn time and similar heat value to birch, but produces a lot less ash and a livelier flame,

Fir has almost twice the burn time as the same amount of pine or spruce which means a half a cord of fir is
nearly equivalent to a full cord of pine or spruce

If you desire a change from burning birch or pine, try fir for a change.
Also fir helps birch burn more completely when the two woods are used together.
Fir has a nice aroma and a mild crackle when burning.
This wood will pop or throw the odd ember out, but it is not as explosive as Pine or Spruce.

1.5 cubic Metre
Hand Picked Tight Stacked Pallets
***************************************
1.5 cubic meters (just under half a cord)
2 of these tight stacked pallets will generally be equal in volume a "cord" of loose bulk firewood.
Delivery in Calgary area Included in price.

Special - $285 per Pallet (1.5M3)

2 Pallets for $550.00 (Approx a cord or 3M3)
**************************

Delivery surcharge applicable to Canmore & Banff deliverie
Now also available at :
Edmonton and area available as well

High River/Okotoks and area : High River Home Hardware Building Centre
170-12TH Ave SE - (403) 652-2214